Residential Properties
---
Let us help you find your next home! Priority Property Management LLC manages a variety of residential rental properties in both Harrisonburg and the greater Shenandoah Valley. As soon as we have all the details of a new property or home coming available, we post all the details on our website.
Single Family Homes, Townhomes & Multi-family Units
We have a diverse selection of properties under management: Single-family homes to studio apartments, townhomes, duplexes, city living and space in the country. If it's available, you'll find it listed under our Available Rentals.
Communities
Below is a sampling of our managed communities, please scroll down for more information. If we have an available unit in a managed community, you'll find it listed in our Available Rentals.
Farm Gate Townhomes - Harrisonburg
Farm Gate Townhomes is a two bedroom, one and a half bathroom townhome community located on the north side of Harrisonburg. Convenient to downtown, EMU, and Red Front Supermarket. Features a first floor half bathroom, storage closet, eat-in kitchen, and laundry closet.
Ridgeview Townhomes - Broadway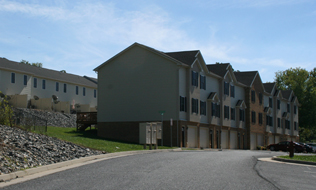 Check out these like-new two and three bedroom townhomes. Various layouts may include garage, unfinished basement, or both! Not far from schools, shopping, and entertainment. Situated between Broadway and Timberville just off of Rt. 259, and a straight shot down the road to I-81. Beautiful community and great views!
Caverns Townhomes - Grottoes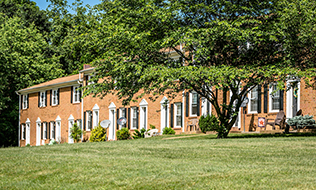 Enjoy the beauty of the Shenandoah Valley with convenient two bedroom townhomes! Located close to Grand Caverns and the comfortable town of Grottoes, get the quality of a great place to live at an affordable price. Water, sewer, and trash pickup utilities are included in each rental price! Large shared yard space and a large wooded area bordering the community compliment this comfortable setting.
Hamlet Townhomes - Waynesboro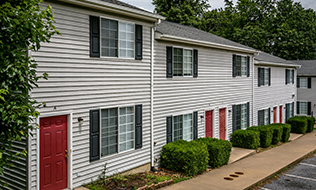 This townhome community is located on convenient Hamlet Avenue on the north side of Waynesboro, just minutes from I-64. Townhomes include two bedrooms, one and half bathrooms, washer-dryer hookups, central air/heat, and two assigned parking spaces. The community also includes three single-level apartments with two bedrooms and one bathroom. About a 30 minute commute to Charlottesville and 40 minutes to Harrisonburg.